Meet the New Grass Valley, a Belden Brand:


In March of 2014, Belden Inc. acquired Grass Valley, combined it with Miranda Technologies, and created the most exciting brand in the broadcast business. Meet the NEW Grass Valley, a Belden Brand.

Under the influence and leadership of Belden, Grass Valley has thescale and stability to continually invest in innovation while also providing a level of service and support to the market that can't be matched. Grass Valley media and business solutions keep our customers Future-Ready.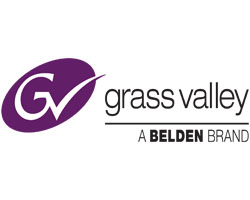 The scale of our company opens the door to solutions your business needs — today AND tomorrow. We attract and retain the best talent in the industry that delivers innovative, efficient solutions to broaden the most comprehensive broadcast solution portfolio in the business.

Our company's stability translates to confidence in your purchase decision. Is Belden committed to the broadcast business and its future? Over $1 billion invested in the industry in the last two years speaks volumes. And we're delivering the future with the strength and resources you need to withstand the cyclical nature of our business.
World-class, global service and support delivers peace of mind.You can count on Grass Valley to help you maximize the efficiency and profitability of your operation — with no compromise on quality. Our global reach means better access to support and our broadcast experts are dedicated to helping you define, design and deploy the right solution that best meets your business goals.
The New Grass Valley is your best choice to create and deliver high quality television. We're making it easier than ever for broadcasters to tell better stories for viewers while managing the complex and rapidly-changing broadcast landscape — today and in the future.